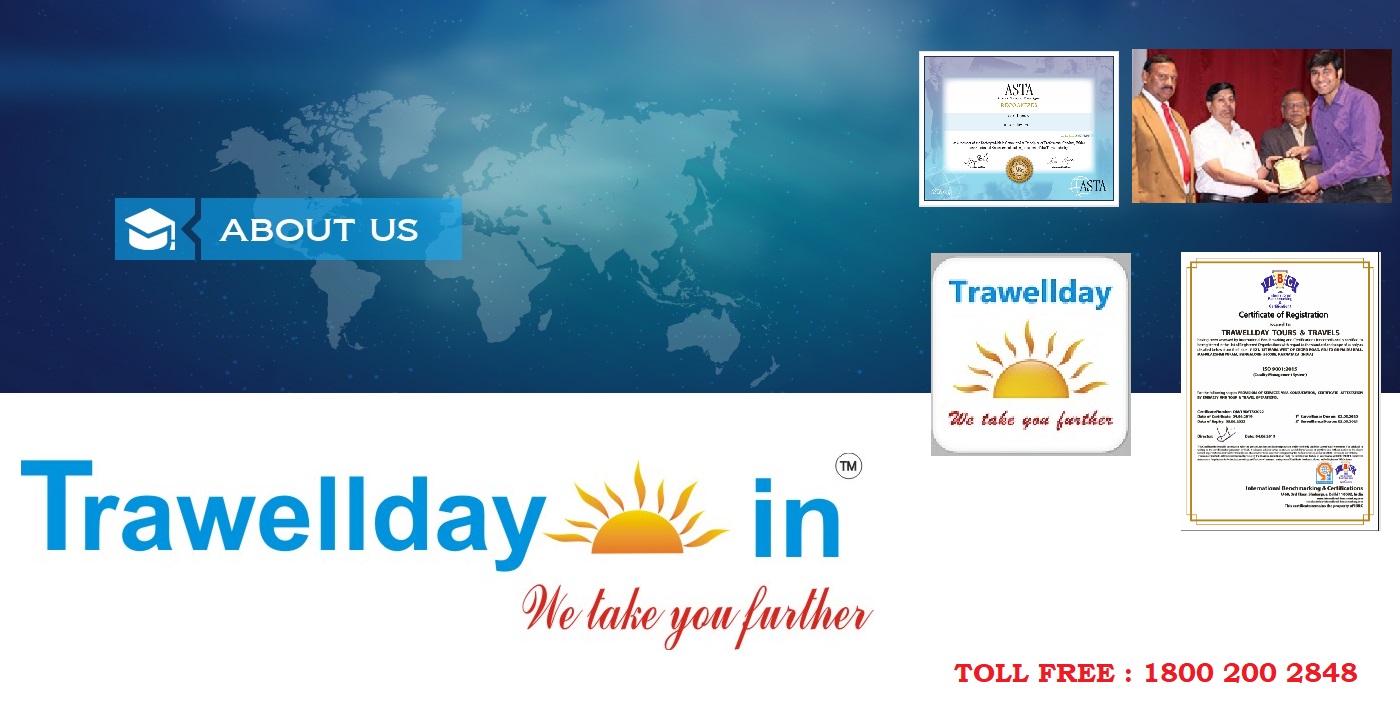 About Trawellday Tours
Trawellday Tours & Travels a Bangalore based Visa Consultant and Tour Operator,We are ISO 9001 : 2015 Certified & ASTA - The American Society of Travel Agents Approved GST Registration # 29AOJPT9120M1Z6.We are found with aims to provide genuine guidance and right pathway to our clients by assisting them with visa requirements to various destinations and Embassy Attestation related procedures.We Trawellday Tours is Top Rated Visa consultant & Tour Operator based in Bangalore and have our strong presence in Mumbai,Hyderabad, Chennai, Cochin and Bangalore.
DIRECTOR'S VISION:
Our company's director's vision is to make the company the biggest with their satisfied client. This Company have played an important role in satisfying the clients for past 28 yrs. We not only believe making a numbers of clients but making satisfied client who will remember our dedicated approach at every stage.As a specialized Visa service agency, we have helped hundreds of thousands of Indian travelers obtain their travel visa, Because of our highly efficient and reliable service, we have earned the support and praise from our loyal customers who have in turn helped us grow from a small Bangalore Visa Consultant to one with multiple branch offices across the country. 
OUR MISSION:
Our mission is to provide genuine guidance to each and every client according to their requirements.We ensure Safe handling of Your Documents in entire Process.
Our Services :
Easy Way to Get Visa :
We Help you in getting Visa for Countries Like Australia,Bangladesh,China,Japan,Philipines,South korea,Taiwan etc etc...We Provide Visa Documentation assistance for UK,USA and Schengen Countries also.
Embassy Attestation
We can assist you in getting UAE Embassy Attestation, Apostille Service, Oman Embassy Attestation,China Embassy Attestation Qatar Embassy Attestation, Kuwait Embassy Attestation, Mea & Home Attestation and many more....
Travel Insurance: 
We offer Travel insurance coverage for a variety of travelers. Student travel, business travel, leisure travel, adventure travel, cruise travel, and international travel, We have Tie-ups with Major Brands like ICICI LOMBARD,RELIGARE ..etc. 
Other Services
We also conducts Tours to Various countries including International & Domestic destinations, Specialized in Maldives, Singapore, Malaysisa, Thailand, Mauritius, srilanka, Kerala and Bangalore as inbound destination. 
Toll Free : 1800 200 2848 | Email : info@trawellday.in
Trawellday Tours ( Rajajinagar - Corporate Office)
#259,1st C Main Road,12th Cross , Opp to GD Naidu Hall, Near to Jose Allukkas Jewellery,
Mahalakshmipuram, Bangalore- 560086.
Proprietor : Mr Thomas V.J - Contact # 9620446636